CopperMuse, Queen of Liquid Arts
Planning a birthday party for a grown-up can be hard. We don't have a lot of good ready made options like we had when we were kids, and if you want to do something that's fun, classy, and unique, that can be a super tall order.
Hands on instruction - no sitting around here
My lovely friend Laura recently turned thirty and we, her friends, wanted to surprise and celebrate her in style. We had done a public bartending class earlier this year with CopperMuse and had a great time, so I reached out to the team to see if we could organize another class as a private event. Everyone was receptive and enthusiastic and we got to planning.
Learn how to use counts to pour exact amounts
We agreed on four cocktail options, choosing some of Laura's favorites. Peter, CopperMuse's talented chef, made delicious plated snacks, and even had gluten and dairy free options. During the class, after we surprised Laura and there were happy tears all around, we took turns making drinks. We each made one complete drink and also tasted the liquors from each drink on the birthday menu. There was a pouring contest (with the winner receiving a free shot) as well as a short tour of the distillery.
Learn to use bartending equipment with confidence
This was a time to cheer for each other unabashedly, while we all learned, made messes, and ended up with some fantastic drinks. Lauren, who taught the class, is super smart and incredibly fun, and energized the group while she taught us. She is approachable and kind, and made sure that everyone was involved and enjoying themselves. We learned bartending basics, some cocktail specifics, and overall had a fantastic evening.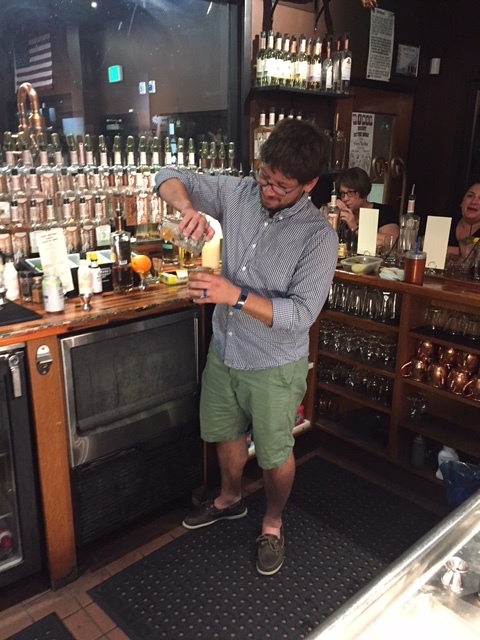 Make your favorite cocktail of the evening
These classes are held when the distillery is closed, so you have the place to yourself which makes you feel like your group is getting specialized attention (because you are!). Classes are also held at regular times throughout each month, so if you don't need a whole class to yourselves, you can join an open to the public class and meet some new people. Drinks are changed seasonally so there are always new things to learn and to try.
Graduating Class - September 2017
Classes are $39 per person which is truly a steal. Not only do you make your own cocktail, try all the liquors from that class's menu, and have tasty food, you also go home with a bottle of select CopperMuse liquor so you can start mixing drinks at home. Experiencing these classes has raised the bar on grown-up celebration, showing that you don't always have to do the same old thing. To get to planning a party of your own, please call CopperMuse at 970-999-6016 or email info@coppermuse.com. Trying something new with friends is always exciting, and when the end result is a great cocktail, all the better!
CopperMuse Bartending Classes - Available Monthly to the Public or book as a Private Event